Discover top trucks at Truro Nissan.
We all like feeling in-control when we're on the road, here at Truro Nissan, we want to see you drive confident. Shop from our comprehensive range of new and used trucks and ready yourself for anything!
We outsold every other Nissan dealer in the Maritimes provinces in 2016/17 thanks to our comprehensive inventory and professional team.
With our commitment to outstanding service and vehicle quality , we've set up our shop to handle your heavy duty needs and your busy schedule.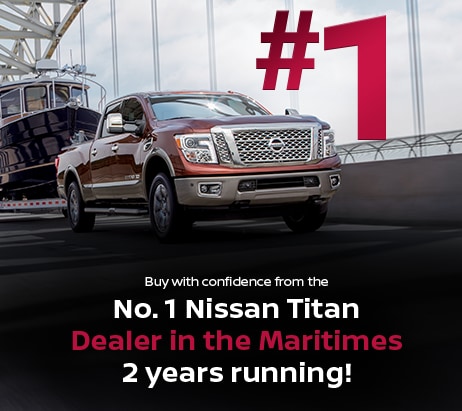 Pre-Owned, Like New
Our vast vehicle inventory also includes an array of pre-owned Nissan models, ensuring you get the vehicle you need at a price that suits you. At Truro Nissan we make sure that quality comes as standard, that's why each of our pre-owned vehicles undergoes a rigorous quality assurance test before being approved for resale. Take home a pre-owned Nissan today and get a reliable, cost-effective vehicle solution from a dealer you can trust.
There are both tangible and intangible reasons to check out the all-new Nissan Titan.
To learn more, contact us today at Truro Nissan!
After-Sales Service with Integrity

• Our 
service department
 is equipped to handle every truck we make and sell. To make things easier for you, we've set up our shop to handle your heavy duty needs and your busy schedule:
• Our shop doors are oversized to allow easy entry without needing to remove equipment.
• Our hoists are rated heavier than most, so there's no need to remove your payload/equipment when having your truck serviced.
• We keep our technicians ahead of the training curve with regards to Nissan trucks and implement new training modules as soon as they're made available and often before they are required by the manufacturer.
• Our team participate in all optional Nissan Aftersales workshops and participate in National Tech-line Roundtable calls in order to stay on top of the issues that might be relevant to you.

 • Our appointment coordinator works with your specific maintenance needs and adjust your maintenance recommendations based on the mileage you drive. This ensures that we never recommend unnecessary maintenance.

• Our bulk synthetic oil program grants you access to the best oil option for your truck. Rather than spending more than you need to on one jug at a time, we purchase large quantities in bulk and pass the savings on to you.
• Our heavy-duty quick-alignment check offers a computer read-out of your vehicles alignment status to quickly identify any necessary adjustments before they cause premature wear and damage to your tires. Over time, regular alignment checks will save you money in fuel and tire replacement costs.
• At the time of your next tire rotation, ask us about our Heavy-Duty RoadForce tire balancer. You'll receive a computer read-out detailing which tire should go where based on your driving habits. Over time, regular balancing and strategic tire placement will save you money.

 • Our parts and accessories department is fully stocked with the full line of Nissan parts and accessories for you to personalize your truck. We also carry genuine, manufacturer-approved parts from certified partners such as Lund and Yakima.
• While your vehicle is with us, take advantage of our shuttle service to get on with your day or enjoy the complimentary TV and Wi-Fi in our comfortable customer lounge.