Nissan Intelligent Mobility™ in Truro, Nova Scotia
Nissan Intelligent Mobility™ Review 
Nissan redefines the driving experience with enhanced innovations that incorporate power, semi-autonomous driving, and integration into society. With our forward-thinking and cutting-edge technology, we promote connectivity between driver, vehicle, and the outside world. The advanced safety features, ease of control, and comfort allow drivers to feel confident and secure behind the wheel. We invite all our valued customers to check out our new Nissan inventory that showcases Nissan Intelligent Mobility capabilities.
There is so much technology and connectivity currently being offered to automotive consumers from Bible Hill, Valley, Brookfield and surrounding areas of Nova Scotia. At a time where smartphones have become the single highest source of information, it is no surprise consumers expect these types of advancements from everything they interact with daily. It is no wonder that a consumer good that is utilized regularly needs to meet and exceed the technology needs of those who use it. Automobiles have become so technologically advanced over the past 10 years that they are now an extension of the driver. A manufacturer who has taken notice is none other than Nissan. Nissan Intelligent Mobility™ is a suite of technologies that keeps the occupants safe and connected to the ever-changing world around them. At Truro Nissan, we are proud to offer a lineup of new Nissan vehicles equipped with some of the most advanced technology on the market. Continue reading to learn more about these great features.
ProPilot Assist
Nissan has designed a comprehensive system that takes the stress out of everyday driving. ProPilot Assist is designed to guide you rather than take over with features like Intelligent Cruise Control and Steer Assist. Both of these technologies work together to help keep pace with other vehicles while keeping your Nissan safely in its lane. By hitting a button, both systems are activated and will help you conquer your next journey.
Intelligent Blind-Spot Monitoring
Nissan's Intelligent Blind-Spot Warning system allows you to drive more confidently. It alerts the driver whenever another vehicle is hiding in their blind spot. It also works with Steer Assist to prevent you from crossing over into another lane. The system will guide you back and away from danger
Hours
Monday

8:30AM to 5:00PM

Tuesday

8:30AM to 5:00PM

Wednesday

8:30AM to 5:00PM

Thursday

8:30AM to 5:00PM

Friday

8:30AM to 5:00PM

Saturday

9:00AM to 1:00PM

Sunday

Closed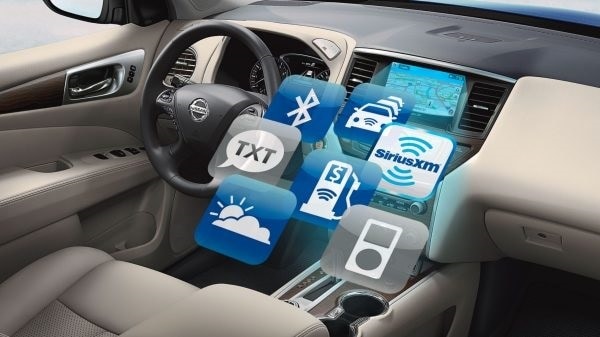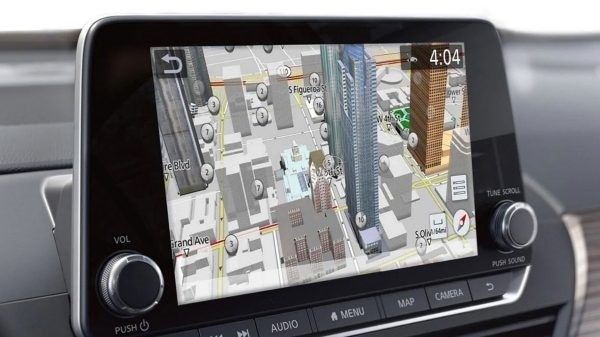 Intelligent Around View Monitor
The intelligent Around View Monitor system utilizes four cameras to create a 360-degree bird's eye view of your Nissan. It is paired with Moving Object Detection, which uses sensors to alert you when anything is moving around you. With both these systems, you will be able to manoeuvre into the tightest spaces without a problem.
Learn More About Nissan Intelligent Mobility
Nissan Intelligent Mobility comprises three essential elements; Intelligent Driving, Intelligent Power, and Intelligent Integration.
Intelligent Driving - Drivers exude confidence behind the wheel through advanced safety technologies. ProPILOT Assist provides Intelligent Cruise Control and Steer Assist to better maneuver in highway traffic and long commutes. Additional innovations include Nissan forward collision warning, distance control, emergency braking with pedestrian detection, and blind-spot warning. These improved intelligent safety features assist drivers in avoiding collisions and minimize damage when a collision is unavoidable.
Intelligent Power - Our eco-friendly electric vehicles deliver zero emissions and increase fuel economy while still performing their maximum potential. The revolutionary E-pedal allows acceleration, deceleration, and braking with just one pedal, making for an exhilarating driving experience. Releasing the E-pedal while driving engages the regenerative brakes that recharge the battery while driving. Power is optimized by eliminating heavyweight engine components and supplying EVs with a standard lightweight 40kwh battery, giving instant acceleration.
Intelligent Integration - Nissan is paving the way for a sustainable ecosystem that conveniently links vehicles to the broader community. NissanConnect Services allows remote vehicle access from the car owner's smartphone. Customizable alerts can be set, and the car can be started, locked, and even located. There is a one-click feature for roadside assistance and navigation that gives the best route to any location. With our Seamless Autonomous Mobility (SAM), we have enabled our cars to connect with drivers, other vehicles, and road infrastructure. SAM is developed from NASA technology and paired with in-vehicle artificial intelligence. It can share live data with other autonomous vehicles to assist with proper decision making when faced with unpredictable obstacles while driving.
Safety Shield Technologies
Nissan Safety Shield is loaded with a suite of technologies that include:
Automatic Emergency Braking with Pedestrian Detection
High Beam Assist
Lane Departure Warning
Blind Spot Warning
Rear Cross Traffic Alert
Rear Automatic Braking
Contact us for more information.
At Truro Nissan, we are excited to get you behind the wheel of your next vehicle. However, we also offer a state of the art service centre that is equipped with fully trained technicians and service advisors. And if you are looking for a genuine Nissan part, look no further than our parts centre; fully stocked with the highest quality parts available.
Test Drive a Nissan With Nissan Intelligent Mobility
Through innovative technology, Nissan has transformed their vehicles into dependable partners to give our drivers a helping hand.  They have developed a smarter approach to transportation with intelligent mobility that delivers a safer and smoother ride.
Contact us to schedule an appointment to test drive a new Nissan and secure the car you want today by completing our online credit application for financing pre-approval. Our finance experts make the process hassle-free with flexible and affordable financing solutions.
Make an Inquiry
* Indicates a required field